According to a study published in the December issue of the Canadian Journal of Cardiology, the use of statins on a daily basis may increase the risk for cataracts. Statins are a class of widely prescribed cholesterol lowering medications.
According to Health Day, researchers arrived at that conclusion after examining "the British Columbia Ministry of Health database from 2000 to 2007 and the IMS LifeLink US database from 2001 to 2011." An accompanying editorial observed, however, that "when statins are prescribed to patients who need them the most, the benefits hugely outweigh the risks, both theoretical and actual."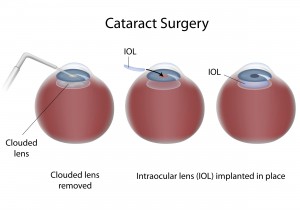 Cataracts are a natural process that occur with aging, however, some mediations and eye injuries can speed up the process of cataract growth.  The truth is that if we live long enough, all of us will eventually develop lens opacities, and will probably need cataract surgery.
Cataract surgery can remove the clouded lens, replacing  it with a clear implant, called an intraocular lens.  Talk to your eye doctor if you have concerns about early cataract formation and how you can keep your eyes healthy.