Magnifiers & Assistive Devices
With so many sizes, shapes, powers, focal lengths, and illumination, it's important to ask your low vision optometrist or ophthalmologist to evaluate your vision and prescribe the best magnification system for your eyes. Many people struggle because they are using the wrong magnifiers for their vision, and then assume that all magnifiers won't help their vision!
Different Types of Vision Loss Result from Different Eye Diseases 
There are special devices, magnifiers, lights, and filters to help eyes with macular degeneration, glaucoma, and other conditions.  New technology is available to give a person with visual impairment independence and enhanced quality of life.
Wearable Assistive Technology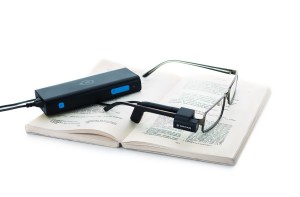 OrCam is an intuitive wearable device with a smart camera designed to assist people who are visually impaired. OrCam gives independence and enhances quality of life. It's a powerful low vision tool when all other options are exhausted.
OrCam is a smart camera mounted on your eye glasses and process visual input in real time. Orcam reads text on signs, books and your phone instantly. You can enter products you use everyday and it will recognize and read aloud what it is you are looking at. It even recognizes faces and announces people you know.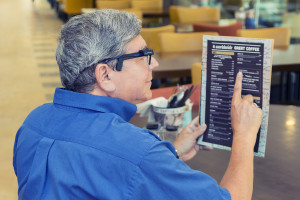 Inside the home, it allows users to read their morning papers and books without asking for assistance or searching for audiobooks. It reads text on computer and smartphone screens without needing to learn new software or use new tools.
This ingenious device is appropriate for all ages, and can be used with external speakers or earphones. Outside the home, it enables independence by reading at restaurants and other public places, identifying money note denominations and products pre-entered in it's memory for shopping, and it does much more!  For more information contact:
Gabe DeLeon, Technology Sales Consultant and Training
Toll Free 1-800-770-8474 x 108
Email: gabe@adaptivetr.com
Optical character recognition in a digital magnifier allows a person to read along with or just listen to something being read to them, such as mail, letters, books, magazines, bills, recipes, or even medicine labels. For a person who has fluctuating vision, this type of magnification system offers the most flexibility.  Some models offer an innovative designed self-care camera of up to 80x for make-up application, tweezing, nail care, and skin care.  This camera can be rotated and used for distance viewing of a bird bath or feeder in the yard, front door or walkway, car in a driveway, or people on the sidewalk. 
Optical and Digital Magnifiers are the most commonly used systems for vision loss from any type of eye problem.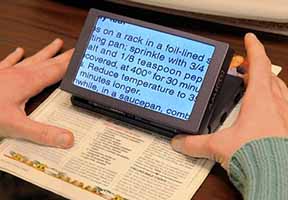 Digital video magnifiers allow longer working distances, high definition optics, and amazing ranges of adjustable magnification from 5x up to 80x with the turn of one button!  Both desktop and small portable digital magnifiers are wonderful additions to the low vision person's toolbox.  Ask Dr. Petrou for a digital magnifier evaluation at her north shore Milwaukee area office in Glendale, Petrou Eye Care at 414-247-2020.
Optical magnifiers are the traditional types of magnification the people use the make small print bigger, are less expensive than digital magnification systems, pocket or purse sized, and come in a wide variety of illumination options. 
Learning to Use Magnification to Read
If a person hasn't been reading much due to loss of some central vision, training the eyes to read again is as necessary as helping a person learn to walk again, say, after a stroke.  Petrou Eye Care's low vision clinic offers the services of certified low vision occupational therapists to help train the reading skills needed to use magnifiers after vision loss.
Focus on Specific Vision Goals for Better Results
It's important to talk with your eye care professional about your specific vision challenges, such as reading a newspaper or magazine.  The more specific a person can be, the easier it is for a low vision optometrist to prescribe a device or recommend a solution to improve visibility. 
Make a List of the Most Important Things to See at Home or Away
One visual device cannot do it all.  Most people need 2 to 3 magnifiers for typical life tasks of reading, checking mail, pricetags, looking up ingredients, or seeing menus. 
Make a list of all of the things you need to see better, then ask your low vision rehabilitation doctor to help you find a few devices that will enhance the vision for those activities. It's common to use different magnifying lenses for close-up viewing tasks, and special telescopic lenses for seeing in the distance.  Low vision therapy and training plays a very important role in successful use of any device.
Visual rehabilitation programs offer a wide range of services, such as low vision evaluations and special training to use visual and adaptive devices. They also offer guidance for modifying your home as well as group support from others with low vision.  Ask your general eye doctor, optometrist or ophthalmologist, for a referral to a vision rehabilitation specialist and get the answers you need to start using your vision in a better way. Many non-surgical options and resources are available to help you function better.