About Your Eye Doctor – Dr. Petrou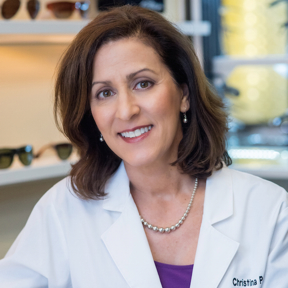 Christina Petrou Haefs received her Doctor of Optometry degree in 1990 from the Illinois College of Optometry in Chicago, Illinois.  After becoming an eye doctor, she continued her advanced training through dual residency at Chicago's West Side Jesse Brown Veterans Affairs Medical Center specializing in hospital based optometry and ophthalmologic co management of glaucoma, ocular disease, inflammation, trauma, retinopathy, laser surgery, and cataracts.  Dr. Petrou received additional residency training in low vision rehabilitative optometry at the Hines Veterans Affairs Medical Blind Center in Hines, Illinois where she specialized in rehabilitation for visually impaired adults.
Dr. Petrou has cared for patients in southeastern Wisconsin since 1991.  As an independent doctor of optometry, she currently sees patients at her newest office in Glendale where Dr. Christina Petrou and her team of experts offer the following:
Comprehensive detailed eye examinations for children, teens, adults, and special needs
In-depth consultation on vision solutions for seeing better to drive, at home and work
High fashion frames and the latest technology in lenses to match a person's lifestyle for social, sports, and to look great
Contact lens prescriptions and evaluations in the newest breathable and most comfortable lenses for better reading and driving vision
Low vision rehabilitation services with one-on-one detailed low vision consultation focused on finding solutions for managing life with vision loss by maximizing optics of magnification, filters, enhancement tools, preferential looking and eccentric fixation education, and more
Optical vision magnifiers, resource recommendation, and other low vision products designed to help people with visual impairments live a more productive, safe, and independent life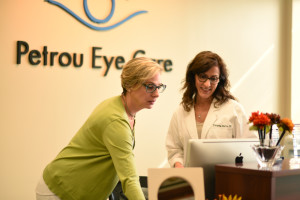 Earlier in her career, Dr. Petrou traveled to Paraguay, South America with a group of eye doctors and Lion's Club volunteers to provide free eye examinations and eyewear to over one thousand residents. She continues her volunteer efforts here in Milwaukee at the Walkers Point Community Clinic, providing optometric services and glasses to uninsured children and adults. She also has participated in vision testing with the Wisconsin Special Olympics and for low vision children with the Wisconsin Council for the Blind and Visually Impaired.  Active support, donations of frames, exams, and funds continue for Children's Hospital of Wisconsin, Wisconsin Public Radio, and Prevent Blindness Wisconsin.
Wisconsin State licensed and board certified in ocular pharmaceutical agents and minor surgical procedures for the optometrist, Dr. Petrou's training and experience allow her to diagnose, treat, and manage or co manage all eye conditions.  She works closely with many local eye specialists (ophthalmologists, optometrists, opticians, and occupational therapists) and surgeons (neuro, retina, cataract, glaucoma, and pediatric) in order to help guide her patients to the best care in the Milwaukee area.
Professional memberships include the American Optometric Association, Wisconsin Optometric Association, Milwaukee Optometric Society, Columbia St. Mary's Affiliated Medical Staff member, and the Ocular Nutrition Society.  Other interests of Dr. Petrou include spending time with her husband and family, gardening, hiking, skiing, sailing and reading.