Our Mission – To help our patients experience life with great vision.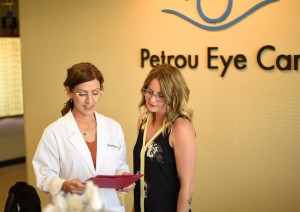 We do this by providing extraordinary patient care – one person at a time. We enhance our patients' quality of life by utilizing only the best lens designs, materials, contact lenses, and technology in eyewear and in eye exam techniques to manage and maintain our patient's eye health for life.
Here's more on how we do it:
Our Doctor – Wellness is her top priority. Dr. Christina Petrou strives to meet the visual needs of every patient with the long-term goal in mind of healthier eyes for a lifetime. She is committed to excellence in eye care, and is known for providing detailed and thorough examinations. She believes that great patient care begins with active listening, effective communication and education. Dr. Petrou works closely with, and refers to, other local eye specialists to ensure you receive the finest care in the area if you need surgery, visual therapy, or advanced medical eye care.

Our Team – You will enjoy being taken care of by our friendly team of optical professionals whose goal is to exceed your needs and make you happy. We want you to have the best experience possible, whether you're here for a thorough and informative eye exam, or need help selecting fun new eyewear to invigorate your style. One of our team's specialties is working with unique populations such as seeing children for exams and fitting them with eyewear after being referred by pediatric ophthalmologists, as well as people who have loss of vision (called low vision) sent by their medical eye doctors or retina surgeons.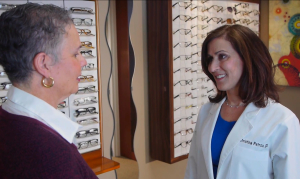 To provide you with excellent vision and perfectly fit spectacles, our skilled opticians scour the globe looking for clearest lenses and the most innovative eyewear. In addition to attending the best continental showcase, New York's International Vision Expo, our Milwaukee team meets with experts from all over the world to bring you the newest technology for eyes.
Our Patients – We love taking care of you! Because we want to know how we can make your experience better, we encourage you to fill out a survey after each annual exam. We read all of your comments and make changes to improve our service to you. The greatest compliment we receive is your referral of friends and family to us, and we sincerely thank you.
Our Specialty – We are known for integrating vision enhancements, whole body health, and eye care, because it's all connected. Dr. Christina Petrou pays close attention to how your eyes function, and she is an expert at identifying causes of ocular discomfort and vision loss, whether due to binocular vision disorders, computer eyestrain, or eye disease. If you need glasses or contact lenses, she will prescribe specific lens systems for your vision requirements, and work with the Petrou Eye Care team of opticians to fit you with the best lens design for your eye condition.
Our Office  – When you enter Petrou Eye Care, you will feel a sense of relaxation, comfort and trust knowing that you will receive superior service and individualized patient care.
Our Community – Our office is part of this community and a force for positive action. Petrou Eye Care gives back to the community we love in many ways: donating eye wear, eye care, time, and financial support to local organizations including Prevent Blindness Wisconsin, Children's Hospital of Wisconsin, Women's Soccer Club of Wisconsin / Women's Charities, Inc, and Walker's Point Community Clinic.
Our World – To support vision and eye care worldwide for people who cannot afford or obtain such care, Petrou Eye Care donates eyewear to Lion's Club International. We clean, package and catalog glasses for distance, near, and sun protection to be crated and shipped on missions benefiting others in need, often to South and Central America.